Rich Snippets WordPress Plugin
Create your own Rich Snippets and use it anywhere!
What Does It Do?
---
The Rich Snippets WordPress Plugin is the most powerful shortcode generator every created.
With just a few clicks you can create Rich Snippets Shortcodes to use it anywhere in your blog posts,
pages or custom post types to pimp up your search results on Google.
---
On the first activation of the plugin some examples are pre-installed.
You are ready to use these shortcodes to generate the following search results.
(Please keep in mind that it belongs to Google if a snippet is shown on your search results.)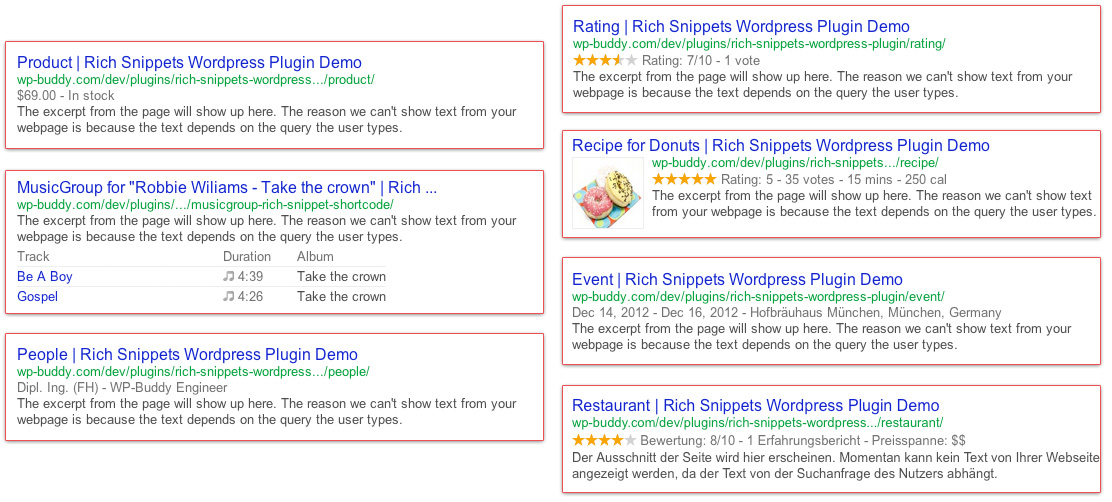 How Does It Work?
---

Testimonials
---
Our products are made in Germany by a German engineer.
All technical requests regarding the product will end up in the engineers email account and not in Asia or anywhere else.
You will get support from the guy who wrote the code.
Maybe this are the reasons why our customers are so satisfied.
First of all, I would like to congratulate you for a fine set of plugins you have made. Your codes are neat, clean, organised and light. These are really nice, effective ans great.
I had purchased your CDN and author plugin and am much satisfied.
I am a non-tech, and I really didn't found any big trouble in set-up those graet plugins and even, your support was awesome. You plugins are also priced very well.
way to go !!! Keshav Maheshwari
Thank you so much for the briefing. Awesome services
Customer
Thanks WP-Buddy for listening to your buyers. Great support thanks again
Customer
Dear WP-Buddy, WOW, thanks so much for super service and great product. Customer
I just found your plugin on Code Canyon, I love the quality of it and it shows you have great talent.
Customer
Thanks a lot for the help and support mate. It seems good after testing… please let me know u have anymore products for sale or in pipline lol Customer
Thanks SO MUCH for taking time and writing to me the valuable information about snippets. Customer
Pimp Your Search-Results Today!
---
FAQ
---
Is this a good investment?
Sure it is. I think that I don't have to explain why Rich Snippes like stars, images  and other information on search result increases your click-through rates, have I? ;)
I'm not sure I can trust you with my money.
You can trust us with your money because you get the best support in the world. If you have any technical problems with this product we can help you without spending any further money. Furthermore this plugin is made in Germany by a German engineer. You can be sure to get a high quality product.
I wonder if I can find this product without paying.
Sure. You can search for other plugins on WordPress.org and you might find something that fits some of your needs to extend your current WordPress installation. But …
As you may know: There is no support for free plugins very often.
Free plugins will stop working sometimes and you don't know why.
This plugin has been made to give you the possibility to use create your own Rich Snippets. This is because every user is different and want to display the snippet in a way that fits their needs. This is what no other Rich-Snippet WordPress plugin can do for you for such a great price! And – of course – it gets improved over and over again. In fact your money will be used to make this product even better.
I worry about sharing my information online.
Your information and privacy are 100 percent secure because we only collect the data that are absolutely necessary for you to get this product. And we're using Paypal which is one of the most trustworthy website on this planet for online payments. 
What will I need to use one of your WordPress plugins (Plugin Requirements)?
You should have the current, self-hosted WordPress version installed. In case you need a plugin to work with a specific WordPress theme, please ask us before your purchase. This plugin requires: PHP5.3 running on your webserver and a WordPress Version higher or equal 3.8.
Are plugin updates included in the price?
If you buy a single plugin all updates are included for one year. You will get a purchase code from our payment-service (like ClickBank or CodeCanyon) which allows you to automatically download updates via the WordPress Admin Panel. After one year you can continue using all plugins, but you will not have access to any updates any longer. We will then offer you a great update-package to a price that you can't refuse!
What kind of support do you offer for your premium plugins?
If you have questions or problems with the plugin installation or setup, you can either write a comment on each plugin page or use the 
WP-Buddy.com support form 
to ask your question there (you can write your question in English and German language and use the Google translator for translations). We are always trying to help all plugin users as fast as possible. Please understand that we can not answer questions regarding your individual plugin customizations or enhancements.
Do you offer individual plugin customizations or do you take on client projects?
Unfortunately we can not offer any individual plugin customizations or take on any client projects.