Boost your online projects with these German engineered WordPress products and services: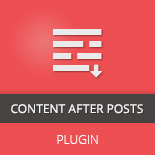 Add content after post, page or custom post type. read more…
Testimonials
---
Our products are made in Germany by a German engineer.
All technical requests regarding the product will end up in the engineers email account and not in Asia or anywhere else.
You will get support from the guy who wrote the code.
Maybe this are the reasons why our customers are so satisfied.
For me, Florian is the best coder that I've got to know in my own career as a freelance web designer. For him nothing is unsolvable. He always strives to fand a smart solution to a problem.
I just found your plugin on Code Canyon, I love the quality of it and it shows you have great talent.
Customer
Thanks a lot for the help and support mate. It seems good after testing… please let me know u have anymore products for sale or in pipline lol Customer
First of all, I would like to congratulate you for a fine set of plugins you have made. Your codes are neat, clean, organised and light. These are really nice, effective ans great.
I had purchased your CDN and author plugin and am much satisfied.
I am a non-tech, and I really didn't found any big trouble in set-up those great plugins and even, your support was awesome. You plugins are also priced very well.
way to go !!!
Keshav Maheshwari
Thank you so much for the briefing. Awesome services
Customer
Thanks WP-Buddy for listening to your buyers. Great support thanks again
Customer
Dear WP-Buddy, WOW, thanks so much for super service and great product. Customer
(…) The author helped me resolve an issue on my side (…). He was fast, courteous and exceeded his responsibilities. So all that I can say is: Buy it before he changes his mind and raises the price.
miketica
Thanks SO MUCH for taking time and writing to me the valuable information about snippets. Customer
On behalf of Gaia A.C., Mexican non profit Organization concerned about environmental degradation, we want to thank WP Buddy Team for the contribution they did for our website. They shared with us the 'Fixed WordPress Social Share Buttons' plugin which works perfectly.
WP Buddy isn\'t just a wonderful developer with very useful and well-designed products, but also helps other people and Organizations. We are very thankful with their participation.
Denisse Bronsoiler